---
Explore curious topics from the Christian perspective each week with Pastor Bramwell! Cross Defense is recorded right here at St. Mark Lutheran Church in Ferndale, CA and broadcast worldwide from St. Louis, MO. Listen to the original broadcast Saturday at 9 AM or on-demand at KFUO.org. Available on your favorite podcast app. Watch episode segments below!
Excite Your Imagination, Equip Your Mind, And Comfort Your Soul.
---
---
Google Podcasts // Apple Podcasts // iHeartRadio // Stitcher // Spotify // TuneIn // Podbean
---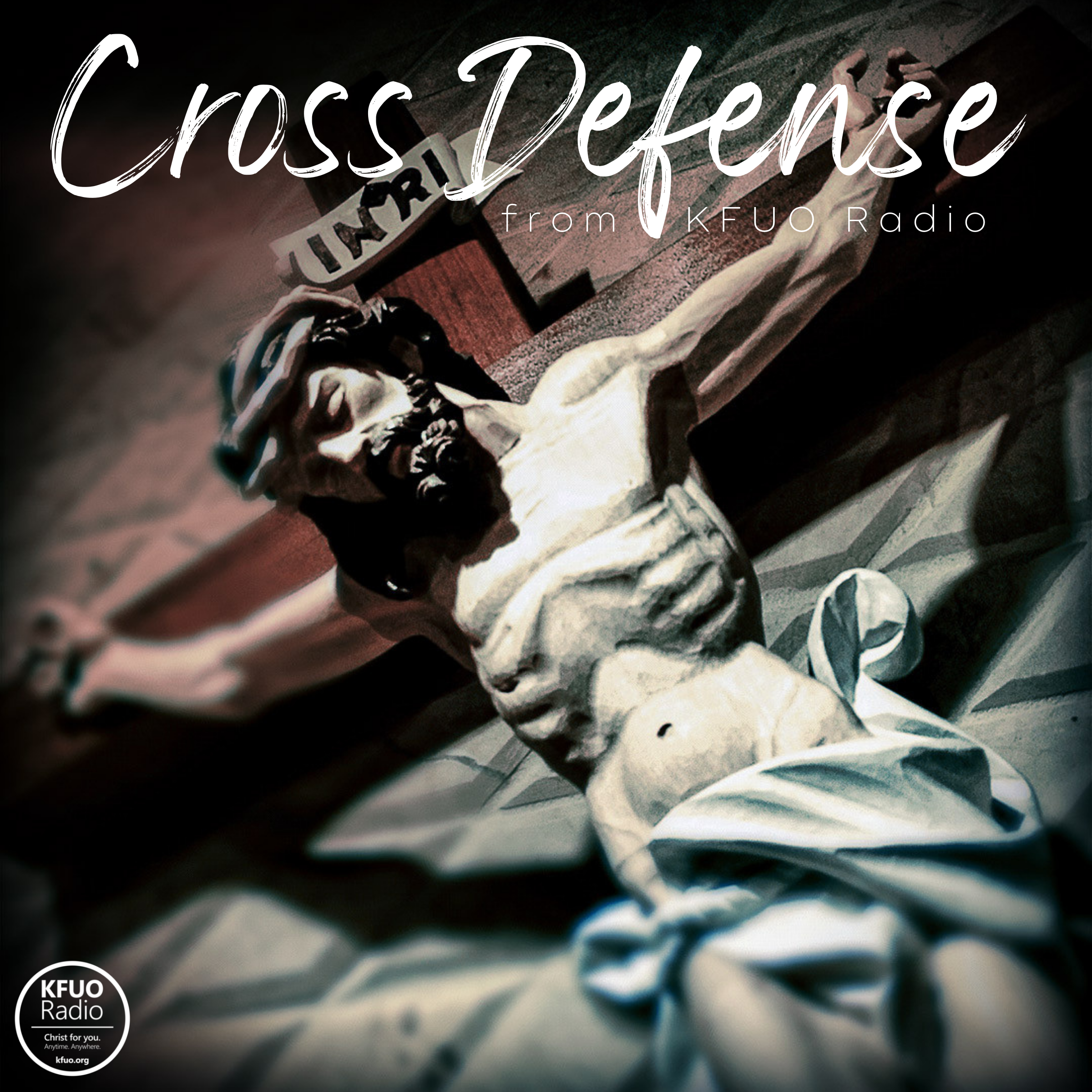 Mr. Blue Bird is no longer on Rev. Bramwell's shoulder (he's off Twitter). Find out more about that and learn about the shared godlessness of Marxism and Fascism. The natural man won't understand, but the Spiritual man sure will. Host Rev. Tyrel Bramwell, St. Mark Lutheran Church in Ferndale, California, and author of the book Come in, We are Closed, talks about curious topics to excite the imagination, equip the mind, and comfort the soul with God's ordering of the world in the Law and Gospel. Send him your questions at stmarksferndale.com. You can find his videos at youtube.com/c/tyrelbramwell.
---
May 6, 2023
Two listener-submitted questions are answered in this episode.
1) Is it an issue to use the words of less-than-orthodox men in service to the Gospel?
2) When do we know when to shake the dust from our feet? C.F.W. Walther, Martin Luther, Justin Martyr, and most importantly St. Paul help us answer these questions.
Receive the gift of your very own pastor: locator.lcms.org/church
April 29, 2023
Connected to Christ: Why Membership Matters. https://www.cph.org/connected-to-christ-why-membership-matters
Have you ever wondered why your unbelieving neighbor doesn't understand you? You speak words of love, but they call them hate. What's up with that? The Bible tells us. Let's shed some light on the subject of their darkness.
https://bookofconcord.org/augsburg-confession/of-free-will/
April 22, 2023
Pastor Bramwell goes to the Scriptures to give the Gospel answer to a listener's question about the validity of his infant baptism after some well-known Reformed preachers burdened his conscience with the Law.
Find Man Up!: The Quest for Masculinity by Rev. Jeff Hemmer at cph.org/man-up-the-quest-for-masculinity.
April 15, 2023
How can Canadian Christians counter the evil of the national assisted suicide program, MAiD? Suffer. The Cross of Christ is the answer to this and every evil in the world. Are we willing to suffer for the Gospel?
Resources mentioned in this episode:
cph.org/p-32988-holy-people-holy-lives
bookofconcord.org/other-resources/sources-and-context/heidelberg-disputation cph.org/a-martyrs-faith-in-a-faithless-world
April 8, 2023
What is the idol of evangelism? What does it have to do with being straightforward and honest? Does it have anything to do with how we can answer the question about how to stand up to Canada's MAiD killings? We're talking about Jeremiah 23, the German church in the days leading up to WWII, A Letter to The American Church, and using our mouths to speak God's truth in service to our neighbors.
April 1, 2023
The Trans Radical Activist Network's response to the Nashville shooting at the Covenant Christian school highlights the difference between power and authority. What is that difference? Do we operate with power or under authority? Plus, a listener wants to know how to stand up against Canada's Medically Assisted Dying program.
March 25, 2023
Sam Smith and Kim Petras performed Unholy in an unholy way at the 2023 Grammy Awards. Their award was cheered as a historic victory for the LGBTQ. And the whole thing was sponsored by a pharmaceutical company. It all smells like that one time Satan's throne was in Pergamum and people were worshipping Asklepios, compromising in accord with Balaam, and participating in the evil of the Nicolaitans.
March 18, 2023
Silicon Valley Bank was the second biggest bank failure in American history. In the face of this Christians remain comforted by Christ. Which master do we serve? Money or God? Who is steadfast and will never fail you? Yeah, you know.
Walther Against the Theatre: stmarksferndale.com/waltheragainstthetheatre
March 11, 2023
How does the Law serve the Christian? Does the Gospel mean the Law is useless for believers? What does Galatians 5 and 6 say? What about article VI of Solid Declaration and the Bible verses cited in it? Good stuff for the comfort of our souls!
Read the Solid Declaration at bookofconcord.org/solid-declaration/third-use-of-the-law.
March 4, 2023
Was Walther being pietistic when he wrote his ten arguments against attending the theatre? He gives us his defense against those who think so. Then the Revs. William Weedon and Robert Preus help us sort out pietism and practical theology before Francis Schaeffer weighs in on pietism in relation to the battle we're in against the spirit of our age.
February 25, 2023
Listener comments continue the conversation on the curious topic of the evils of the entertainment industry. Rev. Theodore Graebner helps us navigate the Borderland of Right and Wrong. Also: social media, suicide, depression, The Chosen, and keeping one's head!
Find the resource mentioned at stmarksferndale.com/waltheragainstthetheatre.
February 18, 2023
C.F.W. Walther leads us to older and clearer waters as he poses ten arguments against attending the theatre—now streaming on your phone.
"Sure, Drag is Theatre": https://youtu.be/M0KuFjnIMU8 
February 11, 2023
A licensed minister claimed on PBS that the New Testament has nothing to say about homosexuality. Is this true? Of course not, but don't take Pastor Bramwell's word on it. Open your Bible!
Find the CPH book mentioned in this episode, 'Ethics of Sex: From Taboo to Delight' at cph.org/ethics-of-sex-from-taboo-to-delight.
February 4, 2023
The Pope says homosexuality should not be a crime. His words stimulated an email and Pastor Bramwell's response, explaining why Christians do not approach sin with words that merely sound loving, but rather, those that truly are loving.
Love or Hate? https://stmarksferndale.com/2023/01/27/love-or-hate/
Jan. 28, 2023
Pastor Bramwell walks through an infographic he created that highlights the worldview differences between Satan's lies and God's truth regarding the LGBTQ movement, Critical Race Theory, Pluralism, Climate Change, Feminism, and neo-Marxist postmodernity. The image can be found at https://stmarksferndale.com/worldviewcomparisons. 
Jan. 21, 2023
Eusebius records Clement's story about St. John after he returned from Patmos. It will equip your mind and bring comfort to the soul of anyone who thinks they are beyond forgiveness. There is much for the church to learn from the loving actions of the elderly apostle, especially given that the world thinks we live in a post-Christian era. Is that true? Do we? Learn about this, and more in this episode!
Jan. 14, 2023
Damar Hamlin's cardiac arrest sparked a public display of prayer. But why don't we see more Christian behavior in the public? Find out how our death-obscuring façade and gospel-hiding basket minimize our public displays of Christian identity, so we can avoid being foolish disciples and walk on Christ's narrow path.
Jan. 7, 2023
Graham Hancock's hit Netflix show, Ancient Apocalypse, has stirred up controversy. It goes against mainstream science and is all about the memory of a global flood preserved in mankind's ancient structures. Did an advanced pre-flood civilization exist? Did they teach post-flood people groups their technology? What does this have to do with the pyramids and the stars? Excite your theological imaginations and let's get into the book of Genesis for some answers.
Dec. 17, 2022
Christians don't look up to the heavens for wisdom. We look down into the Scriptures. What do the Scriptures say about the sun, moon, and stars? What does the fourth day of creation tell us about them? How about Psalm 19 and the book of Job, and Jonah? Plus, there's Josephus' input and we'll consider what the founder of the Institute for Creation Research said about the zodiac. We have lots to talk about!
Dec. 10, 2022
Graham Hancock's hit Netflix show, Ancient Apocalypse, has stirred up controversy. It goes against mainstream science and is all about the memory of a global flood preserved in mankind's ancient structures. Did an advanced pre-flood civilization exist? Did they teach post-flood people groups their technology? What does this have to do with the pyramids and the stars? Excite your theological imaginations and let's get into the book of Genesis for some answers.
Dec. 3, 2022
Luther Classical College's November mailer continues the conversation about Sunday School and the parental responsibility of training children in the Christian faith. But why do pastors care so much about this? Martin Luther and C.F.W. Walther articulate the answer. Christian parents matter to kids! They're also the solution to every problem that plagues our society.
Nov. 26, 2022
What should we do when there aren't enough kids to have Sunday School? Do we need Sunday School? Is Sunday School biblical? Where did it come from? When did it become the norm? Who is Robert Raikes and what does John Dewey have to do with Sunday School? How does it relate to the Small Catechism and what on earth is the Prom Phenomenon? We answer all these questions and a few more in this episode.
Nov. 19, 2022
Journalists say Christian Nationalism is on the rise. What is it? How is the term used? Do people want to be associated with it? The Augsburg Confession is a helpful place to start the conversation. Plus, we learn about the faithfulness of our third-century Christian brother, Alexamenos, and about overcoming verbal allergens.
Nov. 12, 2022
In the wake of election day, Pastor Bramwell answers a listener's question about the Christian response to American politics. We're talking about being God's instruments, both in the church and civil realms. It's a question of who needs your works. You know the answer: your neighbor.
Nov. 5, 2022
Orthodoxy, heterodoxy, and unionism. God prohibits church fellowship with heterodox churches. Why? True and false cannot exist with equal standing. If true allows for false, true ceases to be true. Learn more about this and other reasons why the orthodox church is not to fraternize with those who teach contrary to Scripture.
Oct. 29, 2022
Are we straining gnats while swallowing camels? A listener's question about Christian participation in Halloween takes us to the LCMS's Christian Cyclopedia for a look at adiaphora before hearing from Martin Luther's sermon on The Three Kinds of Good Life for the Instruction of Consciences, based on Exodus 25-27 and focused on Matthew 23:23-24.
Oct. 22, 2022
Pastor Bramwell concludes the conversation on division, using 1 Clement as a springboard to dive into the Bible. The Church is militant. Her warfare is not against people but for people—so that all would reach repentance.
Oct. 15, 2022
From one church to another, 1 Clement draws from Scripture to address division and instruct the faithful in matters of Christian combat, which is never in opposition to love. Plus, what if you don't live near a faithful church? Good question. Pr. Bramwell has an answer.
Oct. 8, 2022
There are so many denominations today, and so many of them contradict each other. What's the source of this division? Pastor Bramwell leans on Francis Pieper and C.F.W Walther to articulate the answer. Spoiler alert. It's all about the Bible.
Oct. 1, 2022
Is alcoholism a disease? As we go to Scripture for our answer, we'll consult the Alcoholics Anonymous Big Book, grab a couple of volumes of Luther's Works, pull in the thoughts of Dietrich Bonhoeffer, and discover the tactic of Screwtape's demonic colleague, Guzzle.
Sept. 24, 2022
Is it true that all men are equal or is that a satanic lie? What does Scripture say? Pastor Bramwell turns us to Rev. C.F.W. Walther's lectures on Communism and Socialism as a springboard into God's Word on the question.
Sept. 17, 2022
Christians are saved from the Word of God that the Holy Spirit brings to us. When we look at Acts 2, we see that the sound of Holy Spirit is an echo from heaven that delivers the report of Christ-crucified for the forgiveness of sins to the apostles, their hearers, and YOU! Join Pastor Bramwell as he explores the curious topic of Luke's use of echo in Acts 2:2 and Luke 4:37.
Sept. 10, 2022
Politicians and reporters are talking about insurrection, political violence, and even civil war. Martin Luther admonished Christians to guard against insurrection in 1522. Are his words applicable 500 years later? We review the two opposing parties President Biden described in his recent speech and listen to what Luther teaches about party identities and insurrection.
Sept. 3, 2022
The struggle is real, isn't it? Our children don't always want to go to church, especially during their teenage years. In this episode, Pastor Bramwell confirms that you're far from alone in your hardship, provides encouragement from church history, gives practical instruction from Scripture on how to ease the struggle, and offers an excellent resource to aid you in your parental vocation. Not a parent? Don't think this episode is for you? Not true, friend. Pastor Bramwell's biblical instruction will help you in your evangelistic witness, too!
Aug. 27, 2022
Did you know that in today's woke culture Christians are the heretics? Listen to a voice message that says as much before Pastor Bramwell addresses nine wicked spiritual effects that wokeness has on Christianity. Francis Schaeffer once observed that the spiritual battle is bigger than Christians often realize. He was right!
Aug. 20, 2022
World leaders want us to take action in the face of a global climate crisis. Okay, so why aren't self-professing Christians packing into pews to hear and receive God's Word and Sacraments? Pastor Bramwell takes us on a tour of Scripture verses that should inform our behavior in the face of a worldwide climate emergency. If we're facing a climate crisis, then a mass crisis of faith is even more disconcerting.
Aug. 13, 2022
Let's discuss the 2nd-century heresy of adoptionism and how it's still alive and actively held by Unitarians. How did the ancient church confront this false teaching and how does Scripture refute it? Plus we get to use cool Greek and Latin terms!
Aug. 6, 2022
Pastor Bramwell talks with Rev. Shauen Trump, LCMS regional director of Africa, about what we can learn from missionaries in Africa. The result is a look at Acts 8:1-4 and every Christian's call to be a vulnerable evangelist.
Jul. 30, 2022
There have been a lot of senseless killings recently. Is the problem guns or godlessness? What does Scripture say about wicked men who ambush innocent people without reason? Join Pastor Bramwell as he explores reports of the Greenwood Park Mall shooting and the Good Samaritan who used his gun in service to his neighbors.
Jul. 23, 2022
2 Thessalonians 2 describes the marks of the Antichrist. And guess what? The Church has long held that the pope is a perfect match. Pastor Bramwell walks through the Biblical description and the papistic fulfillment of this enemy of Christ.
Jul. 16, 2022
The Church of England has a hard time defining the word woman while an ex-trans teenage girl recognizes the irreversible damage she did to her womanly body. Pastor Bramwell discusses these two reports before answering questions about women teaching the "Pastor's Bible Study" and the hiddenness of Christ in a woman's gentle and quiet spirit.
Jul. 9, 2022
Pastor Bramwell answers a listener's question about women in Bible study, highlighting the relationships between the saints and how they are lived out in love and service to all. Then it's onto lawlessness, bad government, and praying the Lord's Prayer.
Jul. 2, 2022
Cross Defense returns with a look at Scripture's answer to the controversial question, what is a woman? Francis Pieper provides our theological road map. Grab your Bible, pop in your headphones, and check out your church's copy of Christian Dogmatics, Vol. I. Woman is a curious topic that the world doesn't grasp. But God does!